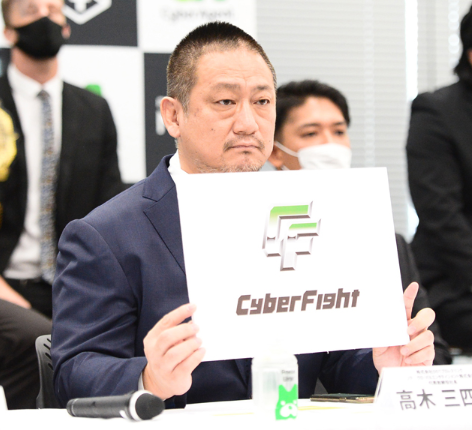 Breaking: CyberFight will place DDT, NOAH, TJPW Under Same Corporate Banner
Brands Not Changing, Only How They Are Managed
Earlier today, professional wrestling companies under the CyberAgent umbrella, which recently purchased Pro Wrestling NOAH (NOAH) from LIDET Entertainment in February 2020, held a press conference to announce a corporate restructure of the promotions into a new entity named CyberFight.

The following is a transcript of Tokyo Sports article that was further edited by this publication for English clarity.
It will start as a new professional wrestling subsidiary "Cyber ​​Fight Co., Ltd." on September 1, under the control of CyberAgent, the parent company of the three companies. In addition, the organization's brand and on-site system were maintained, and Sanshiro Takagi (real name, Nori Takagi = 50), who is currently the president of DDT and NOAH, will be appointed as the representative director. Naomichi Marufuji (40) and Akihito (real name, Nishigaki Akihito = 33) will be Vice Presidents and Representative Directors Arihiro Takeda (NOAH) and Takahiro Yamauchi (CyberAgent, Board Member) will be Directors.
The new structure will see the creation of the 'CyberFight' imprint on September 1, 2020. Sanshiro Takagi, who currently operates as President of DDT Pro-Wrestling (DDT) and NOAH, will operate as the 'Representative Director.'
Appointing a Representative Director is required by Japanese law to begin a business in Japan. They are the highest authority in the company and are similar to the Chairperson position known throughout the west, and have the right to enter into business and legal contracts on behalf of the corporation at large.
It appears Takagi will leave the day to operations of DDT and NOAH to Marufuji (NOAH) and Nishigaki Akihito (DDT), while he handles the overall vision of the subsidiary. Similar to how Naoki Sugabyashi (New Japan Pro Wrestling, Chairman) works with Harold Meiji (New Japan Pro Wrestling, President).
Gambare Pro Wrestling and Tokyo Joshi Pro Wrestling (TJPW) will also operate under the CyberFight banner.
During the press conference, Takagi stated that none of the groups will change their brand name or their color scheme and would continue to operate as a division within the new company.
He also stated his goal was to "Catch up with New Japan Pro Wrestling [NJPW] and overtake it," with goals of running a viable event at the Tokyo Dome in the near future.
As stated earlier in the year, CyberAgent's initial purchase of NOAH did not come without risk. The company was on the brink of closing upon being sold, and CyberAgent as a whole has far less operating income than Bushiroad, the parent company of NJPW.
From February 3, 2020, "While CyberAgent maintains a higher total revenue than Bushiroad, the latter maintains a higher gross profit and operating income. CyberAgent lost money during the Q4 of 2019."
Currently, NJPW makes up approximately 90% of the professional wrestling market share in Japan, while also expanding their international fan base through New Japan Pro Wrestling World.
The corporate reshuffle by CyberAgent of their professional wrestling subsidiaries will allow them to 'cover the losses' of NOAH and possibly TJPW, especially after the financial effects of COVID-19 (Coronavirus, 2019) on both their business models.
Running a financially successful event at the Tokyo Dome is perhaps 3-5 years away for the new outfit, that will depend on creating draws within each brand to come together for a supershow at the prestigious wrestling venue that can hold over 40,000 for wrestling.
Remember to stay up to date with the latest news on TheOvertimer. Don't forget to visit YouTube
and Gamestingr for great videos, news, and gameplay!